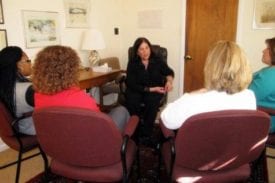 We have been serving the Warren, Morris, and Sussex tri-county area for over 40 years. You and your family's well-being are our primary concerns. Our dedicated staff is comprised of highly experienced therapists with different backgrounds and strengths. Whether for you or for a family member, we have the experience to meet your specific needs. You will receive personalized, specialized, sensitive, and confidential attention under the care of all of our providers!
Our Therapist Qualifications
Our staff is trained in a wide variety of psychological disciplines including, but not limited to, cognitive-behavioral therapy, couples and family counseling, addictions counseling, solution-focused therapy, EMDR, play/art therapy for children, and many others. We offer counseling for most mental health problems including anxiety, depression, mood disorders, ADHD, obsessive-compulsive disorder, substance abuse and addiction, co-parenting, relationship issues, divorce/separation, grief/loss, eating disorders, trauma and post-traumatic stress disorder, school issues, learning disabilities, autism spectrum disorders, social skill deficits, oppositional defiant disorder, self-harming behavior, and chronic pain, among others.
Our Location
We are conveniently and centrally located at 26 U.S. Highway 46 in Hackettstown, a short drive from most towns in the tri-county area of Warren, Morris and Sussex.
Our Counseling Services
A Center for Counseling provides a wide range of options for counseling services. We have both male and female licensed therapists/psychologists on staff. Several of our therapists are Licensed Marriage and Family Therapists or Licensed Certified Alcohol and Drug Counselors in addition to being either a Licensed Psychologist, Licensed Clinical Social Worker, or Licensed Professional Counselor. The counselor you work with may be a clinical member of either of the American Psychological Association. The National Association of Clinical Social Workers, as well as the Association of Marriage and Family Therapy. Please contact us or call (908) 852-9000 and our clinical coordinator will be happy to speak with you and discuss how to best meet your marital/couples counseling needs.  Don't forget to check out our FAQ's!
Please email or call us today at (908) 852-9000 and our clinical coordinator will be happy to speak with you, answer any questions you may have, and discuss the best way to get the help you need.