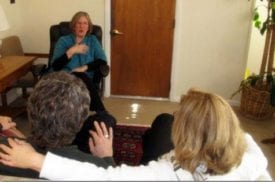 Marriage Counseling and/or Couples Counseling can be the best means to resolving issues and conflict in your relationship. There are many reasons why one might seek couples counseling. For some couples it may be for short-term conflict resolution or to resolve a pressing and immediate problem. Other couples seek counseling at a point in their marriage/relationship where the level of conflict is at its highest point or when they have become detached from one another. In most instances the goal is to work through their differences to build a healthy, loving relationship and find their way back to one another. However, on occasion a couple has already decided to separate and are seeking counseling to help them achieve an amicable separation or divorce.
Couples often seek help for problems one of the partners may have, such as:
Infidelity
Anxiety
Depression
Drug and alcohol abuse or addiction
Issues with extended family members, among others
Having the support of one's partner in the actual counseling sessions may help expedite progress in the individual who is having serious problems. If you are unsure about the current status of your relationship or the direction you may want to take, scheduling an initial consultation can help open up communication and establish mutual goals for you and your partner.
Our Therapists
A Center for Counseling provides a wide range of options for marriage and couples counseling. We have both male and female marriage/couples therapists on staff. Several of our therapists are licensed marriage and family therapists in addition to another state license, as well as clinical members of the Association of Marriage and Family Therapy.
Contact A Center For Counseling
Please contact us or call 908-852-9000 and our clinical coordinator will be happy to speak with you and discuss how to best meet your marital/couples counseling needs. Don't forget to check out our FAQ's.